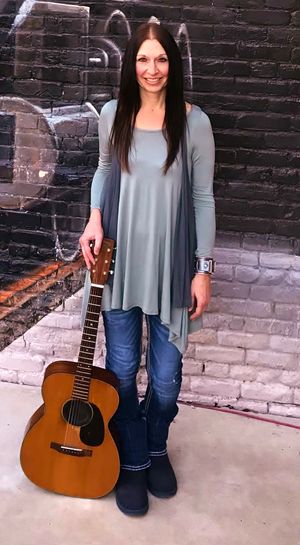 Kimberlee M. Leber Bio
Singer/Songwriter, Kimberlee M. Leber, gratefully shares with you her fifth solo album, "Like a Tree", showcasing her most recent written music to date after a long heartfelt year of helping take care of her beloved stepdad before his passing. Dedicated to him, the album truly presents an honest delivery of deep wisdom enveloped in flavorful melodies, soulful vocals, and inviting sounds that promise to feed your spirit. 
Kimberlee is credited with production, arrangement, and engineering, while also performing all vocals and instrumentation on her new release, "Like a Tree". Offering musical medicine for the soul, it provides a timeless musical soundscape with a message for all. As entertaining as it is spiritually healing, the listener will be drawn into the enlightening words and soothing, yet soaring vocal expressions of Kimberlee. Her acoustic driven guitar serves as a familiar presence on the album, along with her Telecaster, adding a bluesy dimensional tone on many of the tracks. However, seven of the ten songs were written on the Fender Rhodes keyboard or the Wurlitzer, bringing about a new creative process for Kimberlee as a songwriter since she has formerly been known to write with her guitar. 
"This album is a very special one, pulled down from Heaven with my spirit", confesses Kimberlee. "I spent a lot of solitary time with God to receive these songs from Him, praying constantly and asking Him what He wanted me to share with people". 
The album is appropriately highlighted with a Gospel-infused aura from the Hammond B-3 organ, providing a perfect backdrop for the Biblically inspired words. And favored percussive sounds, such as the Brazilian cuica, among others, are uniquely placed in her production, reminiscent of Kimberlee's musical time spent with the Latin group, Breath Spirit & Life. Overall, Kimberlee's appreciation for R&B has resurfaced once again, reminding the listener of the musically diverse background she has traveled throughout her career.
Kimberlee is a Sponsored Artist by Martin Guitars
"Like a Tree", definitely finds Kimberlee in a place of spiritual maturity, sharing revelation knowledge that she believes God has called her to spread in order to help create the atmosphere of Heaven on Earth. The Biblical principles she has learned have given birth to this new music, making it a wonderful spiritual resource with the power to change and restore lives, relationships, and more.  
If one were to rewind back to Kimberlee's musical beginnings, however, its origin would be traced to shortly after she was born. Her mother was known for comforting the child with the sounds of her singing voice. And almost nightly, Kimberlee learned the language of music during those precious moments. For many years, this routinely occurred at bedtime, undoubtedly shaping Kimberlee more than her mother realized.  
As a result, Kimberlee understood that music was a unique language. She witnessed its ability to aid the troubled heart. By the time she was eight, Kimberlee knew she was going to become a singer when she grew up. Reflecting on her youth, Kimberlee recalls telling her Mom this deep knowingness about her future. Through music, she believed that one day she would be able to help thousands upon thousands of suffering people in the world. 
Kimberlee plays a Yamaha MOX6 Keyboard in the studio and during live performances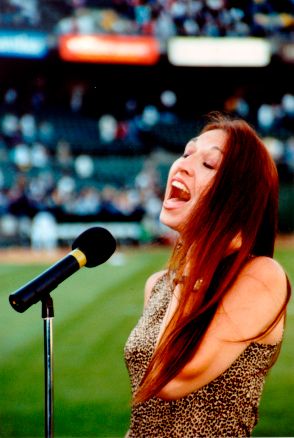 Taking her vision seriously, at age twelve, Kimberlee began guitar lessons to accompany her burgeoning voice as a singer. Her mother's persistent support, coupled with her stepfather's financial generosity, brought about the opportunity to be mentored under the wing of Phil St. Pierre (he had worked in Los Angeles with the legendary Louis Armstrong). As Kimberlee grew more confident with her instrument, the pre-teen began performing for family and friends. For nearly three years, she trained with St. Pierre, learning basic music theory and dozens of songs. Over time, she developed a solid repertoire and started entertaining large audiences with him.  
When Kimberlee was fifteen, she was accepted into Judy Davis' highly acclaimed vocal studio in California. She studied under the world renowned Vocal Coach, who had trained industry acts, Judy Garland, Frank Sinatra, Barbra Streisand, Grace Slick and Mickey Thomas of Jefferson Starship, The Grateful Dead, Steve Perry of Journey, Eddie Money, En Vogue, and a host of others.  
People Magazine wrote of Davis, "A blunt, feisty singing coach with a waiting list of 600 protégés, she boasts of former clients that reads like a pop Hall of Fame…Streisand says that when she sought out Judy, "I was like a paralyzed person, having to relearn to walk"…"I'm a vocal plumber," Davis says. "I fix the pipes, that's all." 
Kimberlee performing the National Anthem for the San Francisco Giants at Oracle Park Stadium
Davis typically didn't accept students unless they were at least eighteen years of age. Nevertheless, she made an exception with Kimberlee because her voice was especially mature. Kimberlee would find herself with Davis for nearly nine years, building one of the strongest vocal foundations possible to help launch her music career as an adult. 
Embracing multiple genres of music from Country, Rock, Folk, Blues, Gospel, Jazz, and R&B, Kimberlee intuitively combined the musical styles over time, creating a sound of her own. Developing creatively in relation to her walk with God through Christ, she has pursued songwriting wholeheartedly, discovering it to be a powerful medium for communication.  
Understanding that music is a universal expression that crosses cultures and ethnicities, able to soothe the pain we have caused one another, Kimberlee has come to believe her musical talent is a privilege held with great responsibility. "Words have value", she acknowledges, "they are more than sound – they are spirit. Therefore, words should be chosen wisely. And there are no greater words than the Biblical words of God". Kimberlee is committed to writing and recording songs that plant seeds for a better world, thereby helping to heal the human race.