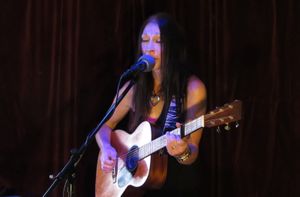 Music Booking
Kimberlee M. Leber  is available to perform at theaters, venues, clubs, restaurants, churches, women's conferences, colleges/universities, fairs, festivals, rodeos, wineries, special events, house concerts, and benefits.  
In addition to performing for the abovementioned, she has performed the national anthem for the United States Olympics and at major professional sporting events with audiences as large as 40,000, has appeared on TV news shows such as FOX TV, NBC TV, ABC TV, and CBS TV to perform and be interviewed, and has performed for the largest Martin Luther King Jr. March in the U.S. with an attendance of 100,000. 
She has been blessed to have shared the stage with Michael McDonald, Kool & the Gang, Luther Tucker, Keith Urban, Martha Munizzi, and many other great artists in her career. 
To book Kimberlee M. Leber  to perform her music live, please click here. 

 
Sponsored by Martin Guitars